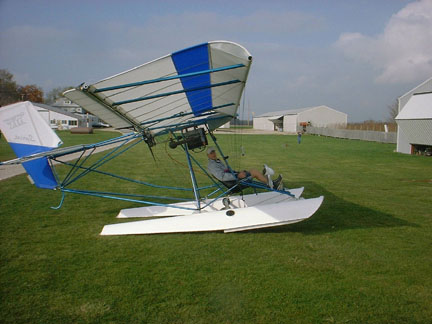 Our extra large slotted planing area allows for a very short take-off time (usually 6 to 8 seconds with two people).
Design:
The float is a basic flat bottom to step... then rises to the heel. The flat bottom has proven to be the quickest planing surface in all fluid dynamic applications. This concept works well in the lightweight high powered applications as associated with today's modern ultralights. Large slots on the the bottom of the float provides a ram air effect to vent the step area. These slots also aide in straight line tracking on take-off and landing.
Construction:
The float shell structure consists of a laminated high-strength fiberglass matrix finished off with a durable white polyester Gel Coat skin. A series of composite internal bulkheads provide the necessary increased strength at mounting and dynamic load points.
These bulkheads are held in place with a high strength silicon adhesive. A mechanical fastening system is used to bond the upper and lower halves togethe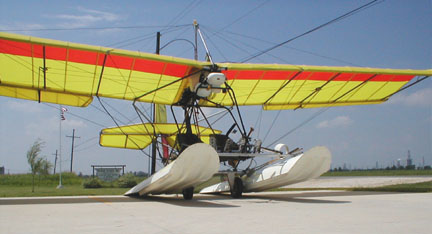 r. Small stainless steel bolts and silicon adhesive have proven to be the strongest shear joint system we have ever used.
This method allows the float halves to be separated should any repairs ever be necessary. All floats include the necessary integral attachment brackets.
Our most recent testing (using a Quicksilver Sprint II) included over fifty take-off and landings from dry ground with no damage, the extra large bottom area makes this type of operation easy.
Although operating from turf is no problem, operations of this type, on asphalt, would not last very long.
An amphibious gear system is also available.
Each float has a removable port provided for internal inspection and a vent to release any internal pressure.
| | | |
| --- | --- | --- |
| | AT-140 | AT-120 |
| LENGTH: | 14 '-3" | 12 '-2" |
| WIDTH: | 23" | 23" |
| HEIGHT: | 12-3/4" | 12-3/4" |
| WEIGHT (w/ mount) | 60 lbs. | 52 lbs. |
| BUOYANCY (Each) | 950 lbs | 750 lbs. |
14' FIBERGLASS FLOATS
Ideally suited for the SPRINT II, SPORT II & GT400
$2,415.00
12' FIBERGLASS FLOATS
Ideally suited for MX, SPRINT & SPORT
**all floats include aluminum attach brackets
$2,300.00
AMPHIBIOUS GEAR PACKAGE
$575.00
MOUNT KITS: MX TYPE A/C
$160.00
GT TYPE A/C Includes front spreader bar, 4 ea. 4140 axle stubs,
2 ea. float nose struts & all hardware. Bolt on assembly
$190.00
WOOD CRATE FOR 1 SET OF FLOATS
$200.00
Being involved with with the Quicksilver Aircraft Co. for many years, our mounts are listed for those types of aircraft. Our Floats are not "GENERIC" meaning that they are not a one type fits all. All floats are built to accommodate the type of aircraft mounted to them.
The difference being.... the location of the internal bulkheads and the mounting brackets on top.
Information we need is simple. The aircraft normally sits on the floats with it's gross CG 3" to 6" ahead of the step. From this, you will locate the hard points. If we can be any assistance in locating the mounts, building the mounting gear or anything with your float project, please ask.