Challenger light sport aircraft seat cushions, Challenger ultralight aircraft seats and seat cushions.
Quad City Challenger custom seat cushions.
Front and rear seats and seat cushions for single and two place Quad City Challenger ultralight and light sport aircraft.
4" Mirabel Deluxe Challenger Seat Cushions

Made from 100% Olefin, a fire resistant and abrasive resistant aviation fabric, these seat cushions, with there sculptured surfaces, will give a classic look to your plane. The high quality foam used in this cushion will improve you r comfort aboard, an ideal advantage for the traveler pilot. We warranty this foam for a period of ten years against deformation and support

We can provide, on request, 2" replacement high quality foam for the original seat cushions


Mirabel Deluxe Challenger Seat Cushion
MIRB back seat cushion
MIRF front seat cushion
SIDE PANELS
Made from the same aviation seat fabric, the side panels completes your aircraft interior. Vinyl inserts at strategic points protects from rubbing feet at pedals and bottom door rails.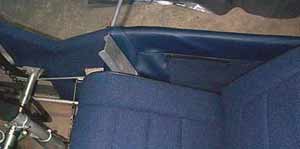 FRONT SEAT

In front, a useful addition of pockets puts maps and small gears at your access. Pockets close with a zipper for safety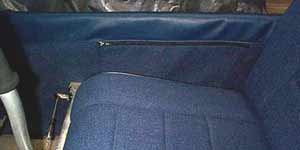 REAR SEAT
At rear, one large pocket for all kinds of usable goods. Side panels are attached with Velcro, just outside, close to bottom door rail. A special method hides velcro parts from outside view.

To cut out all custom controls knobs and levers, just use Exacto knife for vinyl or an hot knife for fabric. Time for installing side panel is question of minutes. Just apply high tactile velcro to door rail and attach side panel to it.
MODEL: DSP
NOTE: When ordering, please specify high door rail or low door rail.
| | |
| --- | --- |
| Challenger Deluxe seat side panels | |
1 2 3 4 5 6 7 8 9 10 11 12 13 14 Index for this section. Main Index
Ultralight Aircraft News Web Magazine . No part of this publication may be copied or distributed, transmitted, transcribed, stored in a retrieval system, or translated into any human or computer language, in any form or by any means, electronic, mechanical, manual, or otherwise, without written permission of Ultralight Aircraft News. By copying or paraphrasing the intellectual property on this site, you're automatically signing a binding contract and agreeing to be billed $10,000 payable immediately. Copyright Ultralight News