Challenger aircraft landing gear, Quad City Challenger aircraft fiberglass landing gear, fibreglass landing gear for Quad City Challenger ultralight aircraft.
Quad City Challenger fiberglass gear legs.
Our fiberglass landing gear will help absorb the energy produced by hard landings.
This is a real plus on skis where bumps and ridges left by snowmobiles on iced lakes normally produce a rougher ride.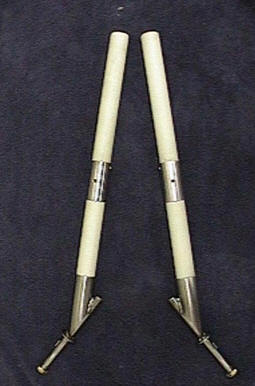 These fiberglass legs also help reduce the roughness associated with landings and takeoffs from rough airstrips.

The legs are re-enforced at the mid-section with a chromoly mid-cuff for added strength at the cross cable attachments.

The fiberglass gears inherent flexibility requires the axle angle to be changed to maintain the proper wheel camber.

To use the fiberglass landing gear you will also require new axles/cuffs that are pre-machined at the proper camber angle for the glass gear.

To protect the resins in the fiberglass gear from UV damage, the legs must either be painted or covered with strut fairings.

The chromoly parts should be painted with a rust resistant paint for protection as well.
Fiberglass Gear Leg Set
Model: FGLS
Fiberglass Leg Axle Set
Model: FLAS
Axle Cuff Set
Model: ACUS
Drop Axle Set
Model: DAXS
1 2 3 4 5 6 7 8 9 10 11 12 13 14 Index for this section. Main Index
Ultralight Aircraft News Web Magazine . No part of this publication may be copied or distributed, transmitted, transcribed, stored in a retrieval system, or translated into any human or computer language, in any form or by any means, electronic, mechanical, manual, or otherwise, without written permission of Ultralight Aircraft News. By copying or paraphrasing the intellectual property on this site, you're automatically signing a binding contract and agreeing to be billed $10,000 payable immediately. Copyright Ultralight News