Rotax 912, Rotax 912S intake sockets, Rotax 912 intake manifold support brackets.
Rotax 912 intake manifold support brackets - FABRICATE MOUNTING BRACKETS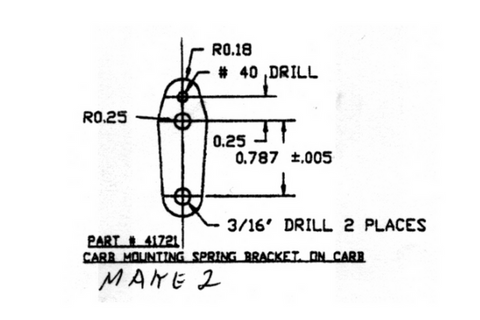 STEP (1):

Fabricate the PIN 42721 and PIN 42722 Carburetor Spring Mounting Brackets from the material provided. Use the templates in Fig. 912-D-l. You will need two PIN 42721 Brackets and four PIN 42722 Brackets. These Brackets will hold Springs that will be installed between the carbs and the intake manifolds to insure that the carbs remain seated into their rubber intake flanges when the plane is in flight.
Rotax 912 intake manifold support brackets - INSTALL BRACKETS ON CARBS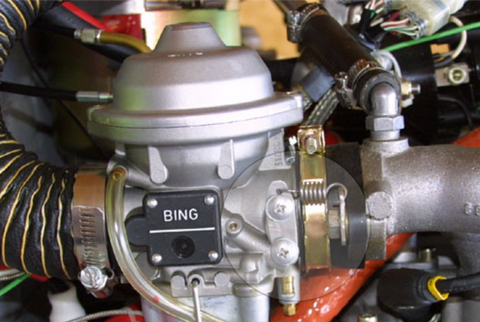 STEP 3:

|Install the PIN 42721 Brackets on the carburetors. These Brackets fit directly opposite of the throttle control arm on the carburetors. You will have to drill and tap the holes in the carburetors to accept the AN526-1032R8 screws.
Drill out the holes in the carburetors with a #21 (.1590) drill and thread them with a 10-32 bottom tap. There is a spring on the throttle control arm of the carburetor that pulls the throttle valve open.
The bottom end of this spring is attached to a bracket. Drill a #30 hole into this bracket approximately 1.5" up from the bottom of the bracket.
This hole will provide an attachment point for the inboard PIN 43002 Spring.

STEP (4): BRACKETS TO MANIFOLD Install the PIN 42722 Brackets underneath the heads of the bolts that hold the rubber intake flanges on the intake manifolds.
Attach the carburetors to the intake manifolds with the original hose clamps over the intake flanges. Stretch the PIN 43002 Springs between the PIN 42721 brackets on the carburetors and the PIN 42722 brackets on the intake manifolds.
See Photo.

STEP (5): CONNECT BALANCE TUBE Connect the PIN 41904 Carburetor Balance Tube between the two intake manifolds, if not previously installed.