Bing 54 carburetor parts used on the Rotax 377, 447, 503, 532, 582 and Rotax 618 engines.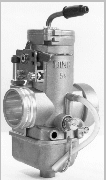 The BING 54 carb is the primary carburator used all of the Rotax two stroke engines. These include the Rotax 277, Rotax 377, Rotax 447, Rotax 503, Rotax 532, Rotax 582 and Rotax 618. While the body of the remains the same in all cases, the internal parts change to properly feed each of the engines, through the complete range of operations.
All of the BING 54 carbs used in two stroke aircraft application should undergo routine inspection, cleaning and maintenance every 50 hours of flight operation. This maintenance schedule MUST be increased if the aircraft is not flown for long periods of time, such as from fall until spring!
Below are listings for the parts for the BING 54 carb used on the Rotax line of two stroke engines.
Use the Bing 54 parts diagram on the left to identify the part required, then use the diagram on the right to identify the part, how many are required and the part number.

NOTE:
(1) Cover should be put on with the whole offset towards engine side of carb.
(2) The Needle Clip (963 500) MUST be located below the Spring Cup (827 347).
Misplacing the Needle Clip will result in a rich range tuning of the carb.
(3) Window must be in the bottom of piston on the engine side, 4.4mm wide x 3.8mm high.

(4) There is currently a blocked jet for primer use. Be sure that it stays plugged.
(5) These parts will not work with older versions of same parts
(5- #963 500 and 6- #827 347).
The new numbers must be used as a set.