Choosing an ultralight or an ultralight trainer - is a decision you want to get right the first time!
Some of the important criteria like performance and versatility are obvious. Other criteria, like the stability and track record of the manufacturer, are less obvious but even more important.
Just ask one of the many ultralight aircraft owners whose manufacturer is no longer in business. We have been in the ultralight business full time since 1978!
You owe it to yourself to carefully weigh all the facts and compare all the features from one design to the next.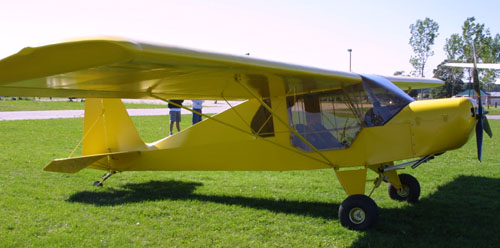 Click here for more L'il Buzzard Flight Report

This is not a conventional aircraft taking you from one paved runway to the next. The L'il Buzzard was built for your backyard "grass strip", or summer cottage. The L'il Buzzard is as pleasant to fly on land as it is on snow or water. Switching between wheels, skis and straight or amphibious floats is easy and with the supplied mounting hardware takes less than an hour.
We won't tell you that the L'il Buzzard can soar - because it can't. It has to much strength built into it to allow it too. Which would you rather be in a craft built to handle the rigors of the Canadian bush pilot environment - or a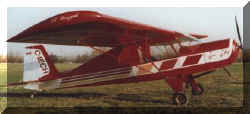 light weight easily damaged craft that can "soar".
Yet when you do turn off the engine, or have an engine out the L'il Buzzard's 172 sq. ft. of wing gives you the time you need to set up for a nice long slow approach, with stall coming in at less than 35 mph, with two on board .
For training or practicing dead stick landings, the L'il Buzzard's 10 -1 glide ratio is one of the best in the industry!
The L'il Buzzard has been produced since 1990 and was developed using over 20 years of ultralight flight training experience. The original L'il Buzzard which is still flying today was used for over 2 years and 1500 hours, in a training environment - before the first aircraft was offered for sale to the public. All the bugs were weeded out - You can be assured you will not be a "TEST PILOT."
While other manufacturers have produced a number of excellent designs over the years, relying on feedback and troubleshooting from purchasers - to refine their designs.
The opposite is true with the L'il Buzzard - by remaining focused on a single design, (and holding off production for over 2 years) rather than constantly introducing new models for marketing hype, the L'il Buzzard has been refined to a much greater degree.
The L'il Buzzard is built to be tough, reliable and easy to maintain - it had to be to be used as a trainer, where every hour of down time is money out of your pocket!
L'il Buzzard owners have not had to deal with bent, broken, or weak landing gear, cracked engine mounts, belt reduction drive failures, or engine overheating inherent some other lighter designs.
The L'il Buzzards large wing and 1200 lbs gross weight, combine to deliver exceptional payload and STOL performance (short takeoff and landing) on wheels, skis, floats and even amphibs ( although we do suggest more horsepower when flying on floats).
The L'il Buzzards full span ailerons give you the capability to handle a direct crosswind of 20 even, 30 mph, easily equaling that of conventional aero planes.
As well, the L'il Buzzard has one of the widest speed envelopes of any recreational aeroplane. The 4 to 1 speed range from 25 to 100 mph, far exceeds the speed range of standard Cessna's and Pipers.
This extraordinary envelope gives you the best of both worlds, a high end for cross country trips and a safe and forgiving low speed capability for that magic low and slow ultralight experience.
Most conventional aeroplane obstruct your view.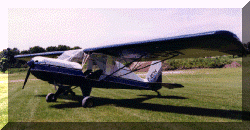 The high, complex instrument panel blocks the view over the nose. Low wings block out the earth below while high wings block out the sky above.
In a conventional high wing aircraft the pilot flies blind in the turns. The L'il Buzzard's seating places the pilots in the middle of the wing, and with the optional skylight, standard doors, and rear tear drop windows pilots have a magnificent helicopter style view in all directions - even in the turns.
The L'il Buzzard's is built by the factory to ensure a professionally crafted, airworthy aeroplane built right without having to rely on your construction skills. The L'il Buzzard comes BUILT ready for paint, and engine installation.

This ensures a low assembly time for an easy and fun project you will complete with confidence in less than 40 hours. If you'd prefer to do nothing but fly, you can place your order and fly your plane away.
The L'il Buzzard has a solid, supportive manufacturer with a long track record. With no middleman - you buy direct from the factory - saving you thousands of dollars. After market vendors offer a wide variety of L'il Buzzard-specific products and services.
In fact many of the parts used on the L'il Buzzard can be purchased locally - the cooling system used is from a Volkswagen. The suspension system is off a conventional "CUB", the doors and windshield are flat pieces of lexan, and over 80 % of the airframe and control system is made from STRAIGHT 4130 chromoly steel tubing, these can all be purchased locally!
Using parts available from other suppliers coast to coast means that you are not tied to us and with these parts used in other applications you benefit from "non aviation" style pricing.

In dealing with Canada's oldest full time ultralight aviation center you can be confident that parts, advice and help are available now and will continue to be in the future.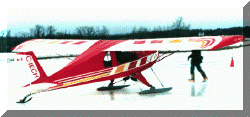 So how do you keep in touch with updates and troubleshooting on your aircraft and engine?

Through UltralightNews - the premier site on the world wide web for information on ultralight aircraft, engines, parts and accessories. Advice and help are as close as the nearest computer. Ultralight News is full of technical tips and safety items as well as plenty of hangar flying stories.

A brand new, fully - BUILT - L'il Buzzard costs less than $17,000 . This is in the realm of motorcycle prices, not the house prices that conventional aeroplane cost. In fact a L'il Buzzard complete with amphibious floats costs far less than the floats alone for a Cessna 185!

At around $10 an hour the L'il Buzzard is extremely inexpensive to operate and maintenance costs are but a fraction of a general aviation aircraft.

9. No Government Red Tape (In Canada)
A L'il Buzzard avoids the costs, complications and hassles of owning, maintaining and operating a certified aeroplane. If you already have a pilot's license, you're ready for takeoff - with a little "familiarization time".

If you're new to flying, ultralight licensing and medical standards are far more readily attainable and affordable than for conventional aeroplane.
In the summer, the high power-to-weight ratio and low wing loading make the L'il Buzzard a marvelous choice for a float plane.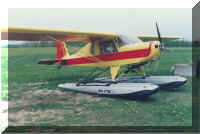 Aircraft with less than 300 hp are rarely seen operating on amphibious floats, yet the L'il Buzzard handles them with aplomb, when equipped with the 912 Rotax engine. Whether on land or water, the doors can be opened or closed in flight for pilots wishing that "open air feeling".
In the winter when many planes hibernate, the L'il Buzzard is in its element. The skis let you land anywhere white - there's no need to search out a cleared runway.

There's cabin heat available to keep you warm and neither the engine nor reduction drive require preheating. So your not stuck in the hangar waiting to go flying.
Compare the return on investment with seasonal vehicles such as sports cars, watercraft and snowmobiles! And remember to compare the price of a L'il Buzzard to ANY and all American designs -
Is there a CHALLENGER that can match price, building times, performance, durability, and maintenance costs!

Click here for more L'il Buzzard Flight Report
Click here to price out a using our price work sheets
Click here for more L'il Buzzard specifications
Click here for a story on the 100th the L'il Buzzard built!