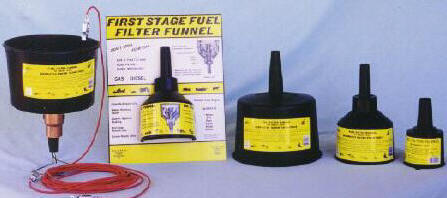 Filter Tips for the SAFE and efficient use of MR.FUNNEL
Click here for web video clip on Mr. Funnel
Your satisfaction Mr. Funnel by Smart Tech will depend upon how well you understand its design and proper use. The following Mr. Funnel TIPS will help you to best use this cost-effective fuel management tool.

AVIATION USERS be sure to note Tip #8.
1. Carbon powder is injected into the Mr. Funnel plastic so that Mr. Funnel will conduct static electricity (not applicable to colored F1Cs). Grounding is an important safety feature. Always ground Mr. Funnel by Smart Tech.
2. When properly used, the filter will separate FREE WATER from hydrocarbon fuels. Free Water is the collection of H2O molecules in the bottom of gas cans or drums formed when fuel is stored for even short periods of time. The free water formation is due to condensation in the air and/or the separation of water molecules from fuel. Water may be present in hydrocarbon fuels as Free Water or as an emulsion-- small globules of water suspended in the fuel. Water may be emulsified in fuel by vibration or by emulsifying agents such as HEET, alcohol, or detergents. The filter will not remove water emulsified in fuel. We recommend that you filter out Free Water first by using Mr. Funnel, then add such agents to your tank to emulsify any water that may have formed in the tank previously. If both water and hydrocarbon fuels are present in a container and the container is vibrated by shaking or by being transported in a vehicle (including an airplane), water may be temporarily emulsified into the fuel.
Water emulsified in this manner will usually combine and settle out as Free Water in about five minutes after all vibration has ceased. When properly used, the filter will separate this Free Water along with rust and crud from your fuel.
3. Excessive head pressure can force water through the funnel. If most of the filter is covered with water, the head pressure of a full funnel can force water through the filter. As water is observed collecting in the bottom of the funnel or the flow rate begins to slow, stop fueling and dump the water/crud out of the funnel and then continue. (See recommended test in number 9 below.)
4. 2-cycle oil contains dispersants, (detergents) which may allow some water to pass the screen. The only safe way to filter out water is add the two cycle oil to the tank after filtering the fuel through the funnel.
5. Dry gas (HEAT and alcohol) can emulsify and bind water. See # 2. The filter cannot remove this bound water. Filter fuels before adding dry gas. The filter will stop water from going into your tank; the dry gas will absorb moisture already present in your tank.
6. DO NOT ATTEMPT TO REMOVE the filter from. The filter is permanently attached to the funnel. (It wouldn't work "in line" anyway due to increased head pressure, so don't try it!)
7. Mr. Funnel is designed to work with gasoline, diesel, and kerosene. CAUTION: Do not use Mr. Funnel for anything else. Other products can compromise the effectiveness of the filter.
8. CAUTION AVIATION USERS: For aviation use, the purpose of this product is to facilitate the inspection of fuel for contamination in the form of solids (down to .005 inch) and free water.
If contamination is found in aviation fuels when checking your tanks or during refueling, drain tanks or take appropriate corrective action. Don't forget to always check the sump for water that may already exist in the tanks.
9. Always test Mr. Funnel before its first use. There's a 30-day unconditional money-back guarantee. Pour a cup of water into the F1C and F3C or 2 cups into the F8C. This amount of water should not pass through the filter. (Of course, we know that you'll probably pour water into the funnel until it leaks. Keep this amount in mind when using Mr. Funnel, knowing that the head pressure caused by the weight of this amount of water in the funnel will cause water to pass through the Teflon coated stainless steel screen.)
10. Frequently inspect the funnel for physical damage. The filter is stainless steel coated with Teflon. With proper us your Mr. Funnel should last for a long, long time.