Outstanding Helmet/Intercom System Superior Noise-Attenuation Quality Performance
Whether used for instruction or pleasure, the DUAL-COM PRO-COM INSTRUCT -A-COM system will provide quiet protection from engine and wind noise.
This package comes fully assembled and consists of two PRO-COM Helmets and two audio-equipped headsets, one DUAL-COM Intercom with a push-to-talk switch and power cord which can be connected to a 12-volt power source. An optional music cord is available t6 connect to a tape player or FM receiver.
The PRO-COM helmets are very comfortable and protective. The headsets offer superior noise attenuation and have large comfortable ear muffs. The other major component of this package is the DUAL-COM intercom which features our proprietary two-channel circuitry. The DUAL-COM intercom with interface cables and transceivers may be used for air-to-air and air-to-ground communication. Distortion-free voice transmission for instructor and student is also available when used as an intercom only.
Features also include superior frequency response, excellent sound quality and impedance matching circuitry to interface with most hand-held transceivers.
The Comtronics DUAL-COM intercom is the only intercom made exclusively for ultralight and light plane operation that will selectively receive and transmit on two transceivers without modifications.
In addition to the same circuit as that used in our popular ultralight intercom, we have added a very efficient switching circuit that makes the unit even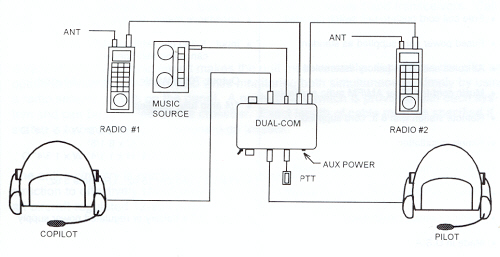 more versatile. It provides a pilot the option to transmit from either of two separate transceivers while monitoring both simultaneously.
For instance the pilot may wish to contact his ground crew via one transceiver and also notify a nearby airport of his location and intentions on another All of this can be accomplished by using the simple switching circuit provided.
The entire circuit has been placed within a metal enclosure of overlapping construction to effectively shield out RF and EMI interference. The selection process is controlled by one toggle switch located on the front surface of the box. Radio actuation is controlled by a single push to talk switch which may be mounted on the aircraft in a convenient location, such as the pilots control stick.
In addition to the dual transceiver interface, the intercom includes a 9-volt battery for back-up and a 12- volt power jack with a voltage regulator built in. On the back side, there is a music input por1 that may be used for an FM radio or tape player.