The AERO COM 3000 aircraft headsets are state- of-the-art design for performance, comfort and quality.

Large 2" speakers offer superior frequency response and sound quality. The industry's standard noise-canceling M/87 AIC microphone is amplified and impedance balanced for optimum utility. Microphone boom fully adjusts for ideal center-of-the-mouth positioning.
Durable, light-weight materials and soft cushion speaker rings provide maximum comfor1 and noise-attenuation. Earphones are fully adjustable for proper fit to seal out ambient noise.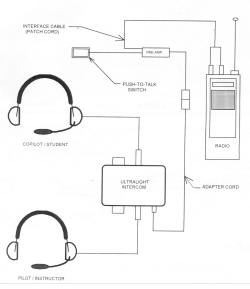 This American-made system has been designed for clear communication utilizing our proprietary intercom circuit (compatible with all aircraft radios and most other portable transceivers). The system includes two audio-equipped headsets, one intercom and adapter cord.
The adapter cord may be plugged into a tape recorder for recording lessons and may also be used with an AM/FM radio or tape player. When used with a matching interface cable you can transmit through your transceiver as well.
The AERO COM 3000 equipment is self-contained and offers ideal communication for all flight conditions and can be used in aircraft without electrical systems.
OPTIONS AVAILABLE
Headphone for listening only
Push- To- Talk switch interface cables are available for all popular aircraft radios
Microphone wind-screens -3 models available