Rotax A Gear Box Parts Diagrams, part numbers, Rotax A reduction drive gear box updates.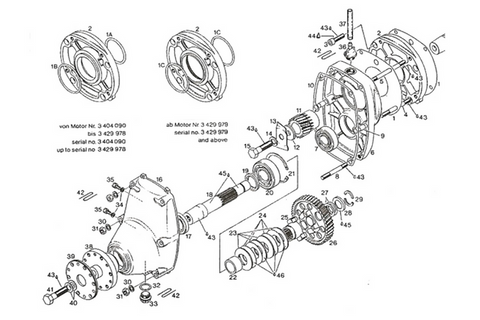 The Rotax A drive reduction gearbox was used on the Rotax 277, Rotax 377, Rotax 447, Rotax 503 and Rotax 532. The Rotax 277 was the first interation of the gearbox and featured a different mounting system than the twin cylinder Rotax two stroke aircraft engines.
The single cylinder Rotax 277 was available in both a fan cooled version, and a free air version. When mounted with the gearbox propeller shaft away from the spark plug the gear box mounted directly to the crankcase using a gasket.
Click on image for larger view.
When the gearbox prop shaft was mounted towards the cylinder head a spacer plate was used to move the box out far enough to clear the cylinder base.
This plate was changed several times over the production cycle of the Rotax 277.
Rotax 277 Fan Cooled Pusher
Rotax 277 Fan Cooled Gear Box Facing Down
Rotax 277 Free Air Tractor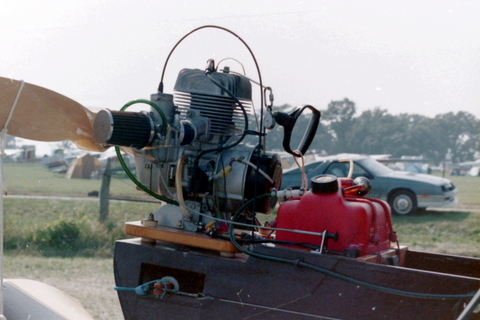 Rotax 277 Free Air Gear Box Facing Up
Rotax A Drive on the 377 Rotax twin cylinder aircraft engine.
The Rotax A Drive used on the Rotax 377 was originally mounted to the engine with a 3 bolt adapter plate. That is the plate mounted to three threaded bosses on the back of the engine. It was found that the three bolts did not have enough stength to effectively hold the gear box on.
The allen screws would vibrate loose, and or break off and which resulted in the drive loosing connection with the drive gear and in some cases resulted in the gearbox exiting from the engine.
Later models were updaed to a 4 boss system. That is the back half of the motor was designed for 4 threaded bosses, with 4 allen bolts holding the adapter plate onto the engine.
Rotax 532 Provison 4 Gear Box Mount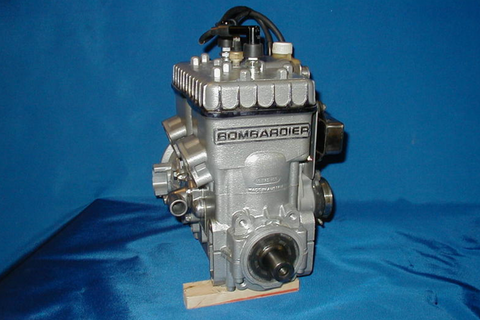 The Provision 4 Gear box mount system worked well on the Rotax 377, 447 and 503 aircraft engines. On the Rotax 532 65 HP liquid cooled engine problems were again reported with the failure of the allen screws holding the gear box onto the engine.
In many cases the loosening off of the allen bolts, resulted in unrepairable damage to the crankcase boss, where the bolts threaded in. Rotax also lengthened the 4 allen screws used to hold the plate on to the engine on the Rotax 532